The benefits of dental implants are numerous. Dental implants can improve the overall health of your mouth as well as your quality of life. At their offices in Knoxville, TN, Drs. Turner P. Emery and Michael D. Wooten employ cutting-edge technology to provide their patients with quality implants that will afford them lasting benefits. The state-of-the-art facility at Knoxville Oral and Maxillofacial Surgery ensures your dental implants will provide you with superior comfort and oral health.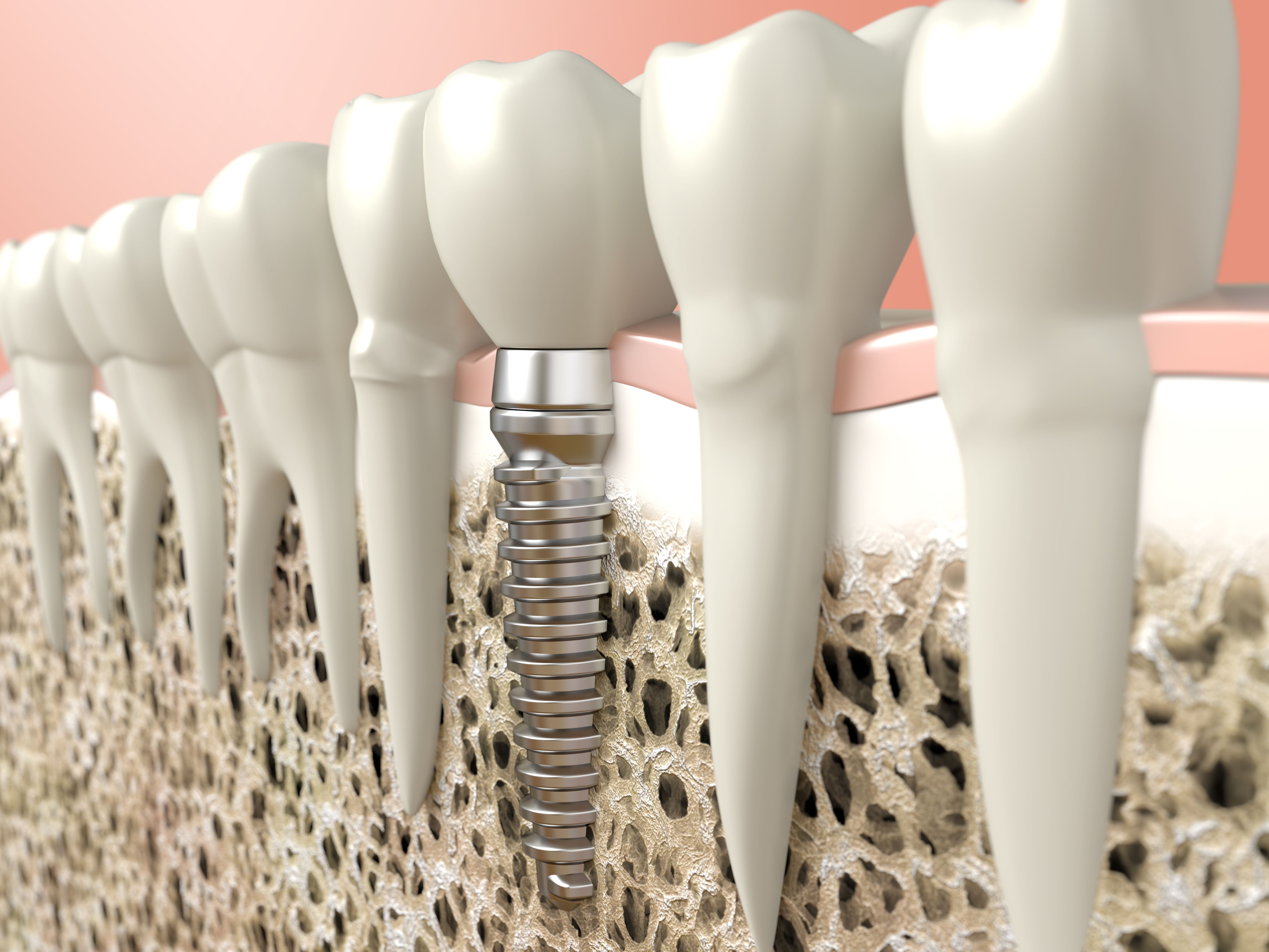 Benefits of Dental Implants
With no natural tooth in place to send regenerative signals to the jawbone, missing teeth can compromise your oral health. Dental implants, however, effectively replace missing tooth roots and can halt any further jawbone recession. There are a number of other benefits of dental implants you should consider, as well.
Preservation of Healthy Teeth
One of the primary benefits of dental implant-supported restorations over other methods is that treatment does not require the alteration of surrounding teeth. Traditional dental bridges, for example, are supported by the teeth adjacent to the gap in your smile, meaning they must be substantially reshaped in order to accommodate a dental bridge.
Improved Jawbone Strength
When a tooth is missing, nutrients are redirected to other parts of the body and the jawbone often shrinks as a result. Since a dental implant replaces the root as well the crown of the tooth, it stimulates the jaw and prevents future bone loss. This not only protects the jaw but also maintains the position and health of the other teeth.
With proper care, dental implants can last for a lifetime.
Simpler Oral Hygiene
Some traditional restorations, such as bridges, can make it difficult to perform regular oral hygiene. Implant-supported crowns, by contrast, are easy to floss and brush just like natural teeth.
A Stable Alternative
Dental implants are designed to fuse with the surrounding bone. Over time, they become part of the jaw and look and feel nearly identical to your real teeth. Because of this, implant-supported dentures will stay firmly in place rather than move around like removable dentures. With dental implants, you no longer have to struggle with the discomfort or embarrassment of your dentures sliding around in your mouth when you speak or ear. Many patients experience improved speech and comfort in addition to the improvement in their appearance. Since they are surgically implanted, you will not be required to remove your restorations for cleaning.
Long-Lasting Restoration
With proper care, dental implants can last for a lifetime. Although your crown, bridge, or denture may eventually need to be replaced, the posts will remain firmly in place once they have fused with the bone. Implants are the only type of restoration that are considered permanent.
New Methods for Better Results
At Knoxville Oral and Maxillofacial Surgery, we offer several techniques—including All-on-4®, hybrid, and traditional dental implants—to maximize your treatment benefits. By offering different treatment options, we can personally tailor care in a way that will provide the most natural-looking, stable results.
Schedule an Appointment
With our state-of-the-art surgical center, we can offer you these incredible benefits and more. If you are interested in dental implants and want to hear more about our services, contact us online or call (865) 240-2977 to speak to a member of our staff.